Friends of Friends of Felines
Friends of Felines KS is very grateful for the generosity of these charitable foundations and individuals without whom we would not have had the resources to achieve this degree of success. Our heartfelt thanks goes out to:
Thank you Bissell for your donation and your committment to pet adoption through shelters.
Thank you LostPetUSA.net for your committment to helping all those lost furry souls out there.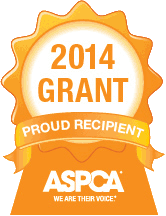 Friends of Felines KS - Proud Recipient of a 2014 Grant from the ASPCA
FOFKS is thrilled to announce that The American Society for the Prevention of Cruelty to Animals (ASPCA) has awarded us a significant grant which will provide critical support enabling us to start targeting feral colonies for trap, neuter & return [TNR] for 2015. Thank you ASPCA. It will surely make a huge difference in the lives of so many cats here.
LYNNE RUFFIN-SMITH
CHARITABLE FOUNDATION
Dr Jennifer Fry
Cornerstone Animal Hospital
K-State Mobile Unit
Dr Brad Crauer
and students
Sisters Veterinary Clinic
Monica Moore DVM
April Horn DVM
Carissa Humberto DVM
Dr Jessica Braun
Western Plains Animal Refuge
Dr Jennifer Jull-Sullivan
Blair Doon Veterinary Hospital